Born: 25 Jul 1874 at South Akron, OH
Died: 15 Apr 1965 at Lansing, MI (~3mos shy of 91yo)

Father: Benjamin BOLLINGER
Mother: Leah CHISNELL

Spouse: Delmar E. BROKAW

Children:

Leah Louise b. 7 Jul 1900 at Carson City, MI

Rhena Gertrude b. 9 Jan 1902 m. Roger HAMLIN

Mildred A. b. 9 Sep 1904 at Lansing, MI (d. May 1910)

Marguerite Thelma 1906-99

William Howard b1908 m. Lois ALCHIN d. 13 Jan 1978





At right, Delmar and Rosa in Lansing, MI ca. 1920s(?) ===>>




When Rosa was 8 years old, the family moved to Carson, MI because of a split between members of the Dunkard Church, of which they were members. Rosa met Delmar while working as a maid at a wealthy home in Lansing, MI. Delmar delivered milk to that home regularly. They were married on Rosa's 25th birthday (25 Jul 1899) at Carson, MI (?).
Delmar and Rosa spent their honeymoon in Colorado at the home of Delmar's brother Jackson's widow. As she was not well, they stayed for several months and then took her back to Michigan with them.
They bought a dairy farm near Carson City, MI, but after 2 years sold out and moved into the southern suburbs of Lansing. There they bought a 30-acre truck farm which Delmar operated until he died. It was during those years that he built and ran the grocery store (corner of Washington and South Street in Lansing) and also dealt in real estate.
Delmar had joined the Methodist Church as a lad, but when in Lansing the family attended the Baptist Church.
Rosa was a strong woman and was looked up to by her family. She must have been of (Swiss) German descent, since her native language seems to have been German. One of her grandsons remembers her saying to him as a child: "Ich liebe dich so gern" (I love you so dearly). She was a member of the so-called Pennsylvania Deutch.
Among her other involvements, she was very active with the WCTU (Women's Christian Temperence Union). She also made lots of quilts, some of which are still in the family. JCS remembers that, when Rosa turned 80, she said "I'm just going to stay in bed and wait to die", tho I don't think she did this for long.
2 clippings in JCS' papers record Rosa's funeral [no dateline shown]: "Rosa Brokaw, 90, Taken by Death. Mrs. Rosa C. Brokaw, 90, of 424 W. Willard Ave., died Thursday at a local hospital. [She] had been a resident of Lansing for 62 years [and attended South Baptist Church]. Surviving are 3 daughters, Mrs. Leah L. Muench, Lansing; Mrs. Rhena Hamlin, Salem, W. VA, and Mrs. Marguerite Bowman, Elkhart, IN; a son, William H. of Okemos; 13 gchildren and 28 ggchildren. Funeral svcs Sat 1pm at Gorsline-Runciman FH [Rev. Harold Reese and Rev. Milton Bowman officiating] w/burial in Mt. Hope Cemetary." She must have died after July in 1964, since the green Brokaw book shows her 'living as of 1964'.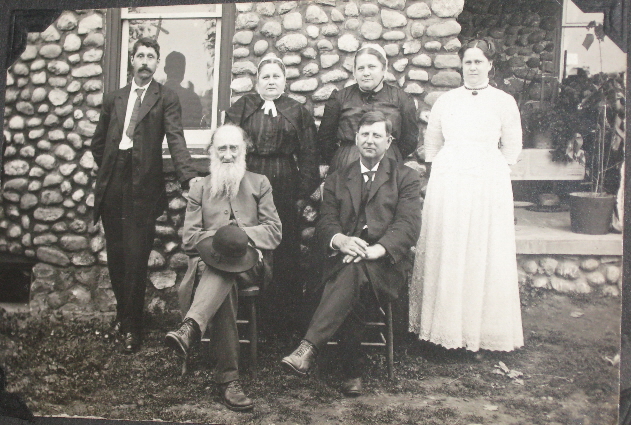 The Bollinger family,probably at the 1899 wedding of Rosa (in white) to Delmer BROKAW. Also shown (I assume) are her elderly father Benjamin and 4 of her 5 siblings from Benjamin's 2nd family i.e. w/2nd wife Leah CHISNELL (he'd had 5-6 w/1st wife). The 6 kids from 2nd family were (in order) Anna, John P, Matilda, Moses, Emma and Rosa.

Marguerite (right) with her parents and siblings (l-r) William ('Willie'), Leah and Rhena at the family's Rosa Del farm in Lansing, MI

The family relaxes c1923 at their 'D E Brokaw Mapledale Farm'. Originally I'd thot the kids were Rosena and Meg, but since Delmer d. 3-26-31 (before Meg was b. Nov '31), this pic must be pre-1930 and Delmer must be holding one of Leah's kids (Marguerite b1921, Bill b1922, Jim 1924, looks like only older 2 were there). So we have L-R Rosa w/dog (name?), Delmer w/baby Billy?, Marguerite w/young Marguerite?, Leah, Rhena, Willie (b1908 so ~15yo here, so 1923?), Marguirite's mother-in-law Alice, and could that be Leah's hubby Jim BOWDEN at right? Hmmm.

close-up of people

even closer-up!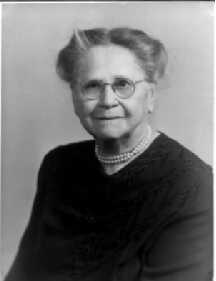 c1950s?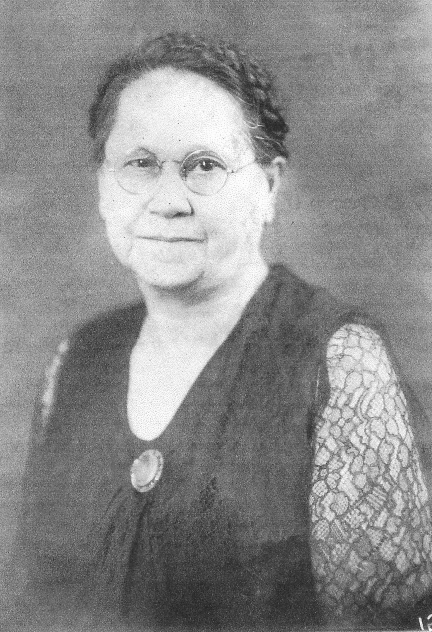 Rosa c1960? This pic was copied 8-10-08 from DBS (his wedding day!) and then got wet in Jul 2010 EHD flood!? But it survived to be scanned 10-16-14, and here it is! I can see JRS in her face
Rosa's mtDNA haplogroup is H3, a very common European lineage. This line comes via her mother Leah Chisnell, ... In his 2006 book 'Deep Ancestry', Dr. Spencer Wells indicates the 'H' haplogroup originated in Africa c100kya (?), migrated into Palestine via the Sinai Peninsula c30kya (?), then much later across Turkey and into Europe (the 1st group into Europe). They spent the last Ice Age (c12kya?) huddled in small areas of Spain, Italy and the Balkans, then repopulated Europe after the warmup. The H and V haplogroups account for 75% of Europeans, and H alone 40-60%, depending on region. See br-7de for more info. Dan Stetenfeld's info says H3 huddled in N Spain, then afterwards split into 2 groups heading 1) N along Atlantic coast into France (i.e. Brokaws) and Britain and 2) E along Mediterranean coast to Italy, Sardinia, then across the Alps into Hungary.
Source: Our Brokaw-Bragaw Heritage and family papers/memories