Born: Mo 27 Jun 1898 at Philadelphia, PA
Died: We 01 Mar 1989 at Lansing, MI 90yo

Father: Isaac Daniel BOWMAN 1862-1953 91yo
Mother: Addie Bell SHOWALTER 1863-1952 89yo

Spouse: Marguerite Thelma BROKAW

Children:

living





At right, Milton and Marguerite in 1957 at Falls City, NE (Morsman Studios) ===>>




He went by Rev. J. Milton BOWMAN or just Milton to family and friends. Milton and Marguerite were m. 28 May 1938, after she'd lost her first husband Eldon GEARHART in a plane crash. Interestingly, Milton and "Margie" had dated much earlier (before her marriage to Eldon), but she'd broken it off when Eldon had come home from the military and "swept her off her feet." Milton forgave all and happily added her and her 3 little girls (aged 7, 5 and 3?) to his life. They had another girl together. The 3 older girls remember what a great, loving stepfather he was to them and are very grateful. All 4 girls called him "Daddy" for the rest of his life.
In his younger days he was a very good saxaphone player and performed quite a bit with a jazz band. Uncle Jim R remembers listening to their music and especially enjoyed the (Duke Ellington) song 'Magenta Haze' which featured a great sax part. Strat SHUFELD (also sang at revival mtgs, later lived at Maranatha) played in the same band with Milton. Milton's father, a travelling evangelist, wanted him to 'get serious' and be a pastor and was not happy about his participation in the jazz band. Milton fought that for a long time, but eventually decided God had indeed called him to the pastorate. He was studying in Philly toward that goal when he heard Eldon had died and contacted 'Margie' to offer condolences and also to hopefully rekindle their friendship (see story in Eldon).
Shortly after their marriage, Milton accepted a pastorate in Nappanee, IN (where the oldest daughter graduated HS). The fourth daughter was born the next year. They moved around quite a bit (Peru, IN; Elkhart, IN...).
In December 1970, Marguerite and Milton retired and came back to Lansing to be near her family. In 1988 their four daughters hosted a 50th wedding anniversary celebration for them.
Theologically, Milton was Arminian (vs. Calvinist), meaning he placed great weight and meaning in each individual's decision whether or not to accept Christ as their personal savior. He believed that Christians could lose their salvation if they changed their minds on that decision. During the fundamentalist controversy, he jokingly referred to them as "funny mentalists." :-) He was very interested in books and studies (a brother of mine still has his huge, oak rolltop desk, and I have his 20-volume set of the World's Greatest Literature...he had many other books as well) but also had a heart for pastoral ministry to people (making him ideally suited for the ministry). He was always mild-mannered, kind and interested in people. In his youth, he had participated in a jazz band, playing saxophone, and had also for a time resisted going into the ministry (displeasing his father on both counts).
From the text of Milton's obituary, from the 3 Mar 1989 issue of the The Lansing State Journal: Rev. BOWMAN was a veteran of the U.S. Army, a graduate of Wheaton College, Wheaton, IL and also of Eastern Baptist Seminary, Philadelphia, PA. He served as a Pastor of First Brethren Churches in Sergeantsville, NJ, Nappanee, IN, Peru, IN, Elkhart, IN, Stockton, CA and Newark, OH, retiring in 1970 after 40 years in the ministry. He was survived by his wife of 50 years, 4 daughters, 13 grandchildren, 10 great grandchildren and many nieces and nephews. Funeral services were held the following Saturday at Gorsline-Runciman Lansing Chapel, with the Rev. Carlton Younge, Pastor of the First Baptist Church and the Rev. James Bowden, Pastor of Valley Farms Baptist Church and nephew officiating. Interment was at Deepdale Memorial Park Mausoleum in Lansing. Suggested recipient of contributions was Child Evangelism Fellowship of Lansing.
---
I have a file named Milton1-600dpi.jpg, which is a big version of above pic, taken in 1957 by Morsman Studio, 2311 Stone St., Falls City, Neb. (labelled 'Rev. & Mrs. J. Milton Bowman, 2303 Lane St., Falls City, NE). Contact me if you'd like the file i.e. too big to put online.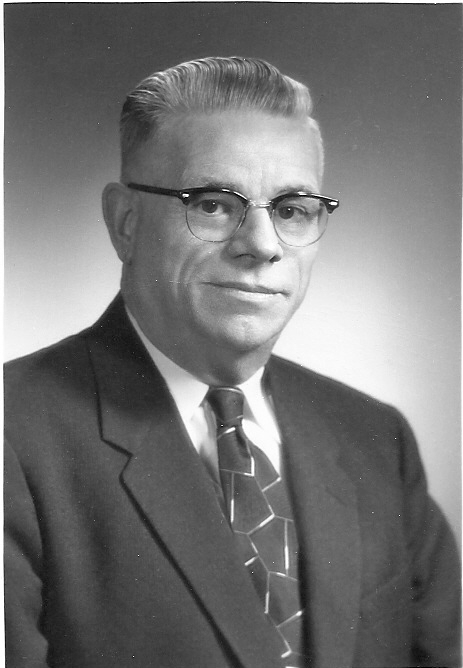 Pic of Milton alone taken at same time i.e. Morsman Studio of Falls City, Neb.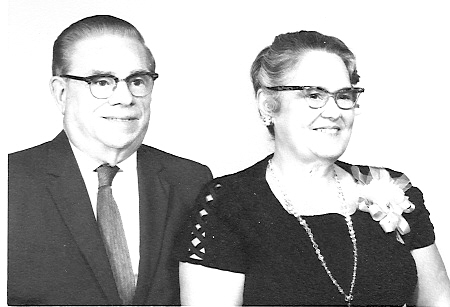 Milton and Marguerite taken sometime later by Olan Mills

Later still by ?
---

Interesting fact: Milton was b. Mo 6-27-1898, Bismarck of Germany d. 4 weeks, 5 days later on Sa 7-30-1898 at 83yo [b. 4-1-1815]. See other interesting dates of this era in Eldon.html. Also see br-qvm for world events; here's a few:

- 1839-61 Q Vic and Albert formulate 'the Plan' (Const. monarchies, via m. of gkids)
- 1848 Karl Marx's Communist Manifesto pub'd, revolts across Europe
- 1871 Germany unified by Bismarck
- 1878 Congress of Berlin keeps peace of Europe, but instability increasing (as GPs jockey as Ottomans and AHE weaken, revolutionary movements grow)
- 1878 Frank W WOOLWORTH 1852-1919 fnd's his famous F W Woolworth store chain
- 1881 (Su 3/13) Czar Alexander II bombed (d. days later)
- 1882 Bismarck's Triple Alliance formed (Germany, AHE, Italy)
- Spring 1887 [4' 11"] Q Vic's Golden Jubilee 'gma of Europe'
- 1888 Kaiser Wm II t/o, decides to challenge Brit dominance (tho he loves gma Q Vic)
- 1890 (3/20) Kaiser Wm II dumps Bismarck
- 1892-1901 QVM: 'High Summer of Royalty' aka 'belle epoque' (soon to end)
- 1892 Edw D FAWCETT's novel predicting [anarchist] doom for civ
- 1893 Frederick L MAYTAG 1857-1937 fnd's Maytag Co
- 1894 Jun, French Pres. Sadi CARNOT ass.
- 1894 Milton HERSHEY 1857-1935 fnd's his chocolate co
- 1896 Nov, Wm McKinley (R) elected President, serves til his ass. Sa 14 Sep 1901
- 1897 Jun, 78yo Q Vic's Diamond Jubilee 60yr reign [1837 18yo]
- 1898 US declares war on Spain 4/11, Milton b. 6/27, Bismarck d. 7/30, AHE Empress Eliz ass. 9/11
- 1899 Oct, Brit Imperialism tarnished by outbrk of 2nd Boer War, loss of 'moral or civilizating' force of Brit Empire led to more anachist violence
- 1900 Jul, K Umberto I of Italy ass., Lenin rel. from Siberian exile -> Switz.
- 1901 Q Vic d. 1/22, Edw VII t/o, TR t/o as US Pres Sep
---

Today (Th 9-20-18), while looking thru some old pics and other items in photo albums, I came across 2 typed pages of notes, transcribed from Milton's handwritten notes on date? after he'd suffered 3 strokes (orig sent to Ginny):
Born 6-27-1898 in N Philly. Father was Isaac D BOWMAN who had a church there. When I was 2yo, he moved to S Philly and found a store bldg across from an empty lot where he preached in a tent til the Fall when he went into the store. They built a basement church with a roof garden and later a fanciful stone church. The contractor, Mr BOWERS, got cancer. My Dad prayed for him in an all-night prayer meeting. Dr SWARTZ, the surgeon, said 'He should be dead!' Mr. BOWERS lived for 30 years. Dr BOWMAN encouraged ethnic groups including a black couple. This was unheard of at the turn of the century.

When I was 6yo my parents took me to the area of Harrisonburg, VA, to visit Grandma BOWMAN who lived in a log cabin. I remember her as an old lady sitting in a chair puffing a corncob pipe. I attended grade school 1 mile from home. I ran 4 miles a day to S Philly High School. I went to Temple University for 1 year. Joined the service [US Army]. My barracks were in Philly. There was a flu epidemic [1918]. Earl DIEBUT died [friend of Milton's?]. 1100 people d. in Philly in 3 weeks. I helped dig graves. Left home at 20yo to live with my sister Bertha in Owasso [IN?]. I sang in the choir at the Billy SUNDAY revival mtgs. Dr RHODES gave me a ride in his electric automobile.

I went to Lansing [MI] to work at the REO [R E Olds] Auto Company, being an apprentice for 3 years. I met Margie at S Baptist Church [there]. I developed eye trouble and had to take a leave of absence. A friend and I made a pup tent and traveled across the Upper Peninsula [UP in MI, then thru WI and MN] to the Dakotas. We worked in the fields [at] $5/day (big wages) shocking wheat from morning til it was almost dark at night. We also took a canoe trip on Lake Vermilion [hmmm, perhaps near Vermillion, SD in SE corner of state? Missouri River nearby, tho also a smaller Vermillion River, can't find V Lake on map, chk o/l]. A letter followed me from place to place offering me a job at the Lansing 'Y' [YMCA]. I took it.

My eye trouble continued. I went to Camden, NJ. The doctor had 1 of 3 instruments [in t] made by Karl ZEISE ... no help. I went to the Ford hospital with 11 specialists. No results. I finally got to the head doctor. He said I had a lack of actinic ray of sun. The short rays of the sun affected my optic nerve. I took some elective courses 3 afternoons a week.

Harry PIMMER in the boxing ring at the Reo Club House during the noon hour inspired me to quit my job and go back to college. I went to Wheaton as a sophomore [Fall 1928, right?]. I broke my leg playing football. I had a job washing dishes for one semester and then fired the boiler in the dorm for 3.5 years. Miss HEANIE flunked me, accusing me of cheating. Dr STRAW passed me with an oral exam over her head. She had me enrolled in her class the next semester. A friend told me to play [kiss] up to her ... Why flunk again? I did and passed at the head of the class of 'Efficient Silent Reading'! I stayed at Wheaton thru the terrible Depression [began w/Fall '29 mkt crash]. 25 industrialists committed suicide. Banks went bankrupt. People were starving. There was very little work. I graduated in 1931.

I moved to Sergeantsville, NJ [NW of Trenton], and became the pastor of Calvary Church. [Charles] Lindberg's baby was kidnapped [3-1-1932, found dead May, HAUPTMAN later convicted]. Bruno HAUPTMAN was kept in jail at Flemington, NJ [6mi NE of Sergeantsville, both small towns]. I visited the jail ... such crowds that I couldn't get near.

I attended Eastern Baptist Seminary 4 days a week for 3 years. I was then offered a large Baptist Church of 1000 members. I decided to stay with the denomination that my Dad founded; The 1st Brethren Church. Margie's husband [Eldon] died [Su 8-30-36]. I wrote to her and started making 1500-mile trips to Lansing to see her about every 6 weeks [after Eldon d. she stayed in Altoona, PA to have baby Willard, then packed up and moved the family of 5 back to Lansing to be near her mom and other family].

We got married [5-28-38] and then accepted the call from the Nappanee [IN] 1st Brethren Church. On the way back to NJ, I was changing a tire on the side of the turnpike when a car almost hit me. I jumped out of the way but hit my eye in the process. Thus I went back to my church with a wife, 3 daughters and a black eye [Willard had d. 1-19-38]. It shocked them.

7 years after we moved to Nappanee, the church burned down. We lost 5 pianos, an electric organ, and most of my seminary notes. Because of the war [1945], bldg materials were almost impossible to get except for the black market or govt. I traveled about 7000 miles getting anywhere I could find them (brick, plumbing, cement blocks, lumber, mortar and etc.). It was quite an accomplishment when the church was finally finished. Later Rosena, Marguerite and Wanda all got married in that church [cf commemorative plate].

After 11 years at Nappanee, we went to Peru [IN]. It was the worst church I ever had. Law suit.

Served churches in Falls City, NE; Elkhart, IN; Stockton, CA; and Newark, OH. Retired in 1970 in Lansing, MI in the house that Margie inherited from her mother [on the frmr grounds of the farm near Palmer Rd and Rosa Dell Roads]. I've been recovering from 3 strokes about 3 months apart. I lost [some of] my memory, speech and much of my eyesight. Before this event, I was president of a Senior Citizens group for 4 years, president of Bethel Farms Foundation, on the Board of the Youth Rehabilitation Center and a Deacon at the 1st Baptist Church. I also taught an adult Sunday School class. I recently received a letter of commendation from Clara JACKSON, the former County Superintendent of Schools in Brethit County, KY, for helping to save a Riverside Christian Training School that was about to be closed by the State. It is still functioning.

So my story is told.
---

Source: Family papers and stories.